Accept Credit Cards
Accept Electronic Checks
Sales History
Multi-Currency
Planetauthorize.Net
Recurring Billing
Customer Vault
QuickBooks® SyncPay™
Merchant Account
Credit Card Processing Made Easy!
Accept Credit Cards for only .20% plus $0.20 cents *
eSignPay™ provides Sales Teams, Legal Staff, Human Resources, Back Office Operations and Call Centers with the ability to accept and process credit cards and signature debit cards. Get paid faster by collecting payment directly from your customers during the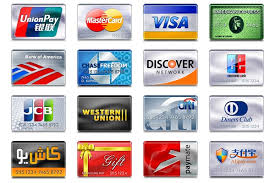 electronic signature signing process.
eSignPay™ is the most flexible payment acceptance platform for electronic signature services. Collect credit card payments online, over-the-phone, in-person with our desktop app, in-person with our mobile Point-of-Sale app or with by using our Recurring Billing & Invoicing services.
Do you have a requirement to process customer payments in different currencies? No problem! eSignPay™ can process credit card payments in multiple currencies. In fact, each member of your sales team can process in a different currency.
Payment processing available to business owners globally. In order to accept credit cards you will require a Merchant Account. For more information Contact Us
* Quoted rates are for U.S. Business Owners. Other rates and fees apply to Non U.S. Businesses.
Accepting Electronic Checks Has Never Been Easier!
Accept Electronic Check Payments for only $0.50 cents, per check!
eSignPay™ provides an exclusive, fully integrated electronic check payment service that enables merchants to accept and process payments from customer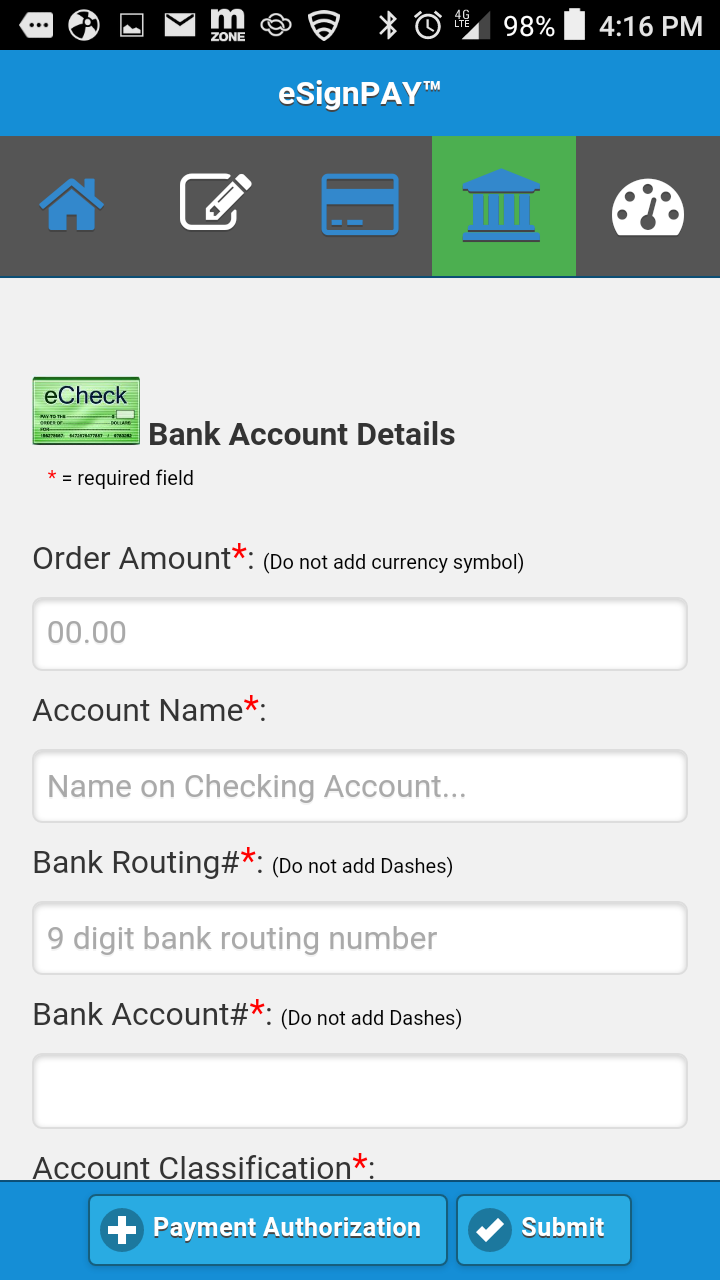 bank accounts. Our eCheck service is fully integrated with the Top Rated Electronic Signature services. Merchants can accept electronic checks, in addition to credit cards, or choose our eCheck Only pricing plan.
Electronic Check payment processing provide the ability to augment credit card payments by offering flexible payment options for less than half the cost of credit card processing.
You'll make it easier and less expensive for a much wider customer base to pay for your products and services, eliminate the cost of paper check processing, and speed the billing and collection processes.
If you conduct Business-to-Business transactions or process large Business-to-Consumer payments then Electronic Check processing is the right solution for your business.
Electronic Check processing is available to merchants located in the United States and Canada. For more information Contact Us or Apply Now for eCheck Service.
Sales Reporting to Drive Smarter Business Decisions
eSignPay™ comes with a powerful reporting tool that provides comprehensive, accurate, real-time data when you need it most. eSignPay™ sales history reports include detailed insight into customer credit card and electronic check payments. View the customer's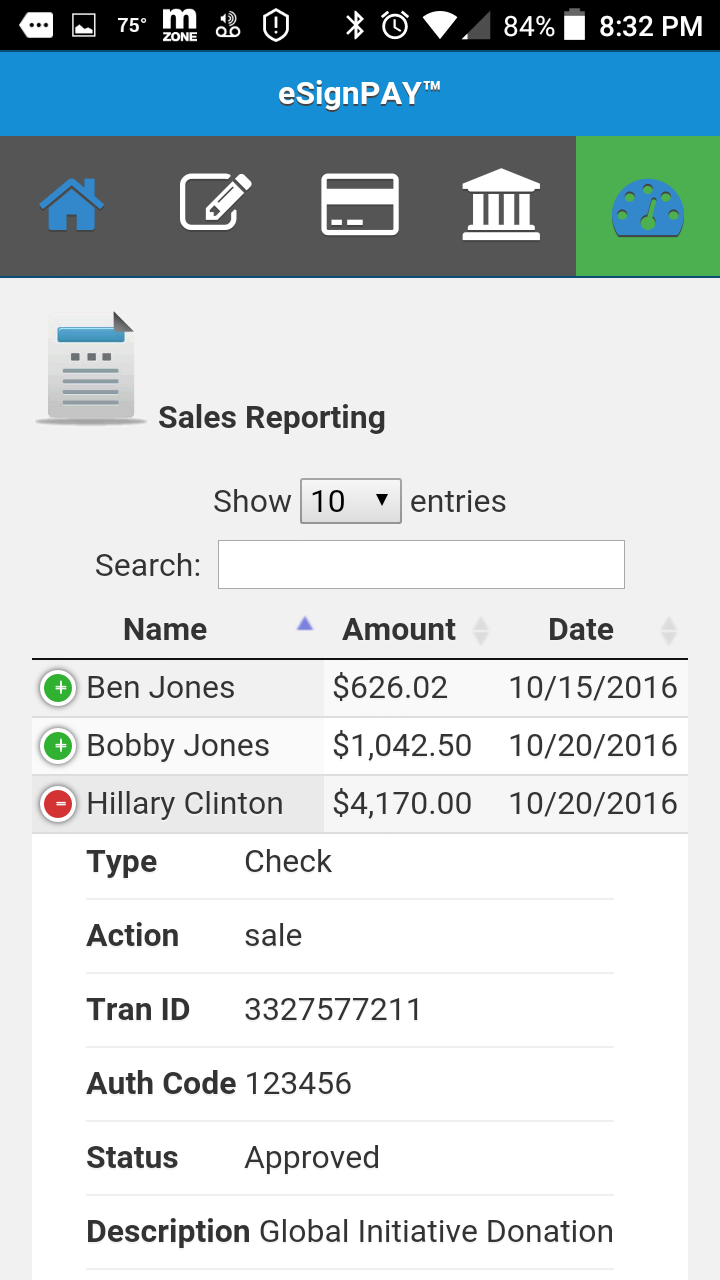 payment authorization form and the associated Document ID when the customer pays during the Electronic Signature signing process.
Always Know Where Your Money Is
Keep track of your money while getting the information you need to keep your business in business. Answer questions from your colleagues and management at lightning speed while providing accurate, tier 1 support to your customers. With our real-time reporting capabilities, you'll be able to answer transaction questions in mere seconds.
eSignPay™ reports give your team the insights they need to sell smarter. Download sales data from our Web interface. Whether you're the head of sales looking at the overall health of the business or an individual account executive looking at where to improve your sales performance, our reports are powered by data that has been automatically collected to help you close more deals!
Multi-Currency Payment Processing
Your business can accept USD, CAD, EUR, GBP and many international currencies based upon their processor integration(s) – did we mention we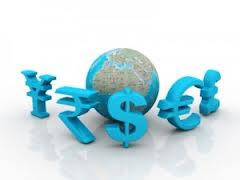 support 150+ of them?
The eSignPay™ multi-currency payment solution empowers business owners with the ability to service international customers. eSignPay™ collects payment during the Electronic Signature signing process; then provides international customers with the ability to pay in the currency they know best – their own.
Our multi-currency payment solutions help business owners provide enhanced customer service and attract more international customers. Merchants continue to enjoy online reporting and receive funding in their own currency.
For more information regarding multi-currency payment processing Contact Us
Accept Payments Anywhere on Any Platform
Planetauthorize payment gateway is a secure international payment platform for small business owners. Planetauthorize empowers business owners

with the ability to accept credit cards and electronic checks on their Mobile device, E-Commerce web store, Retail store, Back Office Call Center and by Mail Order /Telephone Order. Save time and money by consolidating your payment processing onto a single integrated global payment platform.
Multi-Lingual: The Planetauthorize payment gateway is a multi-lingual (English, Spanish, Spanish (Panama), Spanish (Costa Rica) and French (Canada)) payment platform that supports multiple currencies.
Standard features include: Recurring Billing, Load Balancing, Online Control Panel, Sales Reporting, Virtual Terminal, Retail SwIPe for Windows, Payment URLs, Buy Now Buttons, Integration APIs and a Online Help Desk and Knowledgebase.
Planetauthorize integrates seamlessly with eSignPay™. Close deals faster by capturing electronic payments and by providing your customers with flexible payment options.

Optional payment add-ons include:

Customer Vault™ - Securely store encrypted customer payment data

SyncPay™ - Integrate payments with QuickBooks

iSpyFraud™ - Threshold management and fraud detection tool

CertifyPCI™ - PCI Certification Tool for E-Commerce Merchants

Level III Processing - Business-to-Business and Government Order Processing

Merchant Defender™ - Removes clear text credit card data from Retail payment processing
An active Planetauthorize gateway account is required to utilize eSignPay™. For more information and to activate service Contact Us.
Automatic Recurring Payments Have Never Been Easier
Recurring Billing empowers business owners with the ability to automate their billing process. Just assign customers to a plan and Planetauthorize will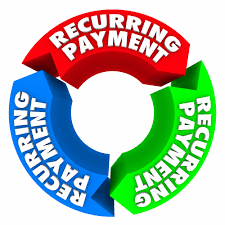 take care of billing them every month, week, day, or year. You can subscribe a single customer to a single plan or multiple plans.
Subscriptions and Recurring Payments are a low-cost way for merchants to accept credit card and electronic check payments for content site subscriptions, newsletter fees, club dues, rent payments or recurring donations. Subscription and Recurring Payments are available as a standard feature at no additional cost!
For more information regarding recurring payments Contact Us

.
.
Securely Store Encrypted Customer Payment Data
The Customer Vault™ service provides PCI Certified Remote Storage of Payment Information. The Customer Vault was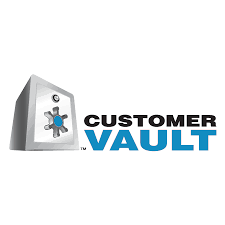 designed specifically for businesses of any size to address concerns about handling customer payment information. Customer Vault simplifies your PCI DSS compliance.
The Customer Vault allows merchants to securely transmit their customer payment information for remote storage in Planetauthorizes' Level 1 PCI certified data facility. Once the customer record has been securely transmitted to the Customer Vault, the merchant can then initiate transactions remotely without having to access credit card or electronic check information directly. This process is accomplished without the merchant storing the customer's payment information in their local database or payment application.
The Customer Vault is an ideal tool for businesses that need to securely save customer data and provide convenience for their customers. For more information Contact Us.
Sync Payment Transactions with QuickBook®
QuickBooks is an Intuit® financial management system for small- and medium-sized businesses. The Planetauthorize SyncPay Plug-In for QuickBooks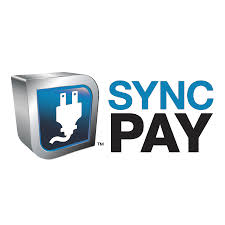 provides support for payment processing from directly within QuickBooks Pro™, QuickBooks Premier™ and QuickBooks Enterprise™.
The Planetauthorize QuickBooks Plug-In allows merchants to pay invoices, generate sales receipts, process batch transactions, and view batch reports without ever leaving QuickBooks. Additionally, merchants can process multiple payments against open invoices at the touch of a button. The Planetauthorize SyncPay Plug-In for QuickBooks also includes support for processing card present swiped transactions after attaching an approved card reader.
Capture and consolidate all payment platforms into QuickBooks. Merchants can accept and process electronic signature payments, shopping carts orders, telephone, fax, CRM payments and mobile payments and sync those payments with QuickBooks. The Planetauthorize SyncPay Plug-In for QuickBooks allows merchants to sync credit card and echeck transactions and maintain Customer Data in QuickBooks.
The Planetauthorize SyncPay Plug-In for QuickBooks is available from the merchants online control panel. For more information Contact Us.
Get Paid Faster with a Merchant Account
A merchant account is a type of bank account that allows businesses to accept credit cards and signature debit cards. A merchant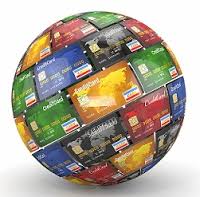 account is established under an agreement between an acceptor and a merchant acquiring bank for the settlement of payment card transactions.

A merchant account has a settlement currency. That means, as a business, you get to decide the transaction currency you want to offer to your customers. It also means you have the ability to conduct business in multiple currencies by simply establishing a merchant account for each currency type.
eSignPay™, is powered by Planetauthorize, so it has the ability to process payments in multiple currencies. Merchants can load multiple merchant accounts into a single Planetauthorize payment gateway account, providing the flexibility to accept credit cards in other currencies. Multi-currency processing allows your customers to pay using the currency they know -- their own!
Apply for a Low Cost Merchant Account
For more information
Contact Us
.
SaleManager LLC is a registered ISO/MSP of Capital Bankcard, Boston MA USA and a registered ISO/MSP of National Merchants Association, Temecula CA USA